1. The Sketched Book 2. Zombuki 3. Elle Moss 4. My Folk Lover
It's that time of year when pop up stalls selling calendars appear at the shopping centres. You know the ones. This year Twilight features heavily; and there's the usual assortment of cats, dogs, flowers, and views of Paris. Me, I'm boring, using a chrome flip over desk number that gets refilled. I'm a 'one day at a time' kinda girl and do get surprised at times when I flip and find that I'm supposed to be somewhere in half an hour. This flip number has daily quotes to ponder. Todays 'You cannot make a crab walk straight' gets me thinking about the improbability of changing others and maybe ditto for self and my mind spins off..... I'm trying to do less thinking though, as my brain needs a little holiday. I think (there I go again) it needs to be filled with less intensity and more calm beauty. So I'm tempted by a few of these Etsy offerings - what an inexpensive way to have more art about. You could also make your own creations with these free templates.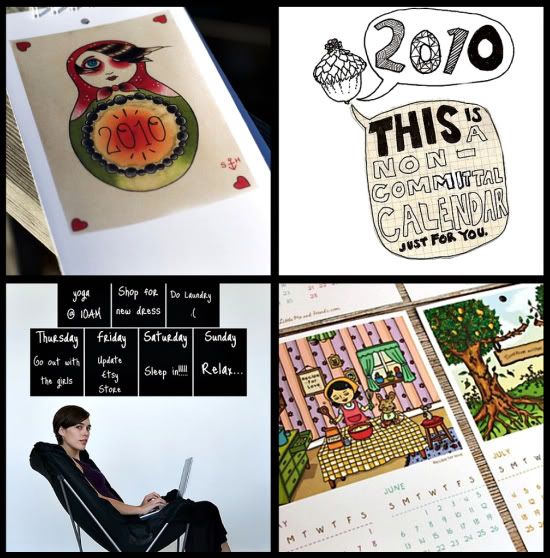 Extract below from New Year Letter by WH Auden .Auden's poetry is rich in its language and rhythm, although I try not to read his literal meanings as I find that the pictures in my head as I read are very different to his intended message.
O Unicorn among the cedars,
To whom no magic charm can lead us,
White childhood moving like a sigh
Through the green woods unharmed in thy
Sophisticated innocence,
To call thy true love to the dance,
O Dove of science and of light,
Upon the branches of the night,
O Ichthus playful in the deep
Sea-lodges that forever keep
Their secret of excitement hidden,
O sudden Wind that blows unbidden,
Parting the quiet reeds, O Voice
Within the labyrinth of choice
Only the passive listener hears,
O Clock and Keeper of the years,
O Source of equity and rest,
Quando non fuerit, non est,
Susanna Hertrich's
Chrono Shredder runs for 365 days until it has continuously shredded all of its calendar pages.
It without image, paradigm
Of matter, motion, number, time,
The grinning gap of Hell, the hill
Of Venus and the stairs of Will,
Disturb our negligence and chill,
Convict our pride of its offence
In all things, even penitence,
Instruct us in the civil art
Of making from the muddled heart
A desert and a city where
The thoughts that have to labour there
May find locality and peace,
And pent-up feelings their release,
Send strength sufficient for our day,
And point out knowledge on its way,
O da quod jubes, Domine.
ps And on another subject altogether, there's a giveaway happening over at
Brisstyle
and another
here
.