Photos via
Visualize
And maps can be very useful.
Typographical Error Seafloor Silk
Map Tie
by Toy Breaker screenprinted with distressed remnants of 1900's sea-depth estimates taken in Scandinavian and Arctic waters.
Paris Metro Map Cuff by Betty Death. This cuff showcases many stops and lines in and around central Paris, including St. Michel, Notre Dame, the Louvre and many other memorable locations. Take a tiny tour of Paris, from the comfort of your own wrist! The cuff is handmade from a colour print printed with water-resistant ink. A slice of vinyl is affixed to the print to provide high gloss goodness and additional protection against the elements. This cuff is backed with friendly black felt to ensure a comfortable and stylish wearing experience, and closes with one silver snap.
Poems can be written about them.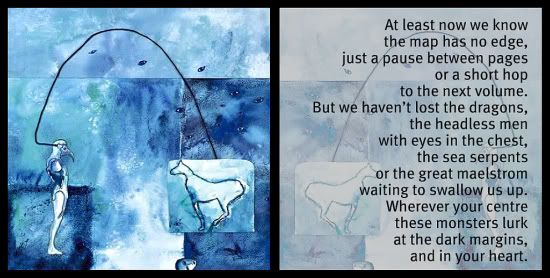 'Cartography' Original Watercolor by
Aine Scannell
and Poem by UK poet Ted Slade, 1939 to 2004, founder of
The Poetry Kit
a worldwide website for poets.

River Flowers Original Map Drawing by Pyglet Whispers. Original hand-drawn line design over a coloured, vintage 1970's Australian road atlas page. Design features Brisbane river and surrounds utilising drawing cues from the vintage map. Drawing is completed using black archival ink pens directly over the book page.
And even journal on them.

Altered Atlas Journalling Workshop from Juliana Coles. Juliana states " It's time to expand our horizons and stretch our limits. It's time to map our existence and point the way out of the confines of our known comfort zones. Beginning with a large format Atlas- the bigger the better-as a matter of fact, if you can barely lift it, you're onto something- we're going to press the parameters of our creativity by going boldly where we have yet to venture- no more 5x7 books with nice little pages. Not for us. No 7x9 finely decorated little altered book. This book gets big, gets bold gets pushy gets out there gets loud and in your face with larger than life images and words so big they have to shout across the pages. Using a large Atlas, no smaller than 11x 14, as the container for our visual journaling experience, we will learn to find our powerful, and aggressive artistic voice that is waiting at uncharted depths to be discovered. By combining journal writing exercises with art making assignments in a mixed media frenzy, I will introduce you to the joys of working large- you may never work small again! It's big, it's bad, and it's beautiful! This book will relate to distance, mapping, and asserting, I AM HERE. Humble, small, less than, not enough, has no place here. Let me introduce you to a different side of yourself. As your guide, I'll help you chart the distance."

As well as making other mixed media fabulousness with them.


Hanging On By A Thread
Assemblage
by Attic Antics. Watched over by a lovely porcelain angel with metal wings, the woman's portrait dangles among vintage chandelier crystals, a ceramic feather, and the tiniest little key. An old cheese grate backed by map imagery serves as a backdrop while the watch face creates a halo behind the angel's face when viewed head-on.

Oh Danny Boyd Collage on Canvasby Super Minx. This is an original 5"x5"x1.5" canvas mixed media collage which utilises maps, magazines, advertising catalogues, scrapbook papers, ink and acrylic paint. The entire canvas is papered, including the sides, and for extra durability a gloss varnish applied.


Finding Your Place in the City, an original mixed media painting incorporating a map background by Kelcey Loomer.This is number 20 in Loomer's Rest Series. The series is a reminder to take a moment for yourself~ to quiet your busy body and mind and be still. To create a space of rest... so that you may hear your own voice and dreams. The chairs are a symbol of this awareness. Size: 12" x 12" x 1.75". This painting is created using many thin layers of paint on top of many collaged elements and handmade papers. The words in the painting say "one way to fly in your dreams". Layered into the painting there is also words from a description of New York City from a vintage history book. In the background you can see a map of NYC.

And sometimes those things make our brain map much clearer.


Photo by Austin O