via The Australian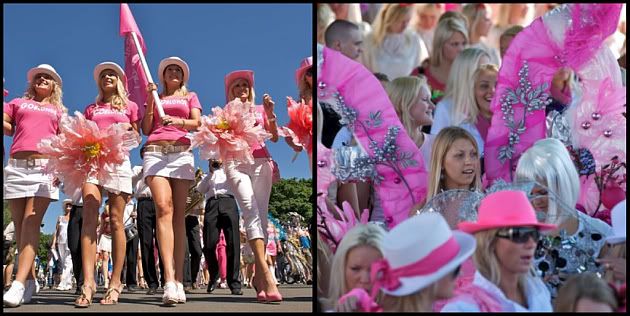 There's no doubt the state of the economy could turn our hair greyer but apparently it's increasing the number of blondes! I have a beautiful book 'The Vogue Book of Blondes' that details the history of colouring hair blonde - from the earliest Egyptians as well as the Greeks, Hebrew, Assyrians, Persians and the ancient Chinese. And the psychology of blondes in fairytales, religion, entertainment. We humans are so interesting aren't we... I know it's not important, the colour of our hair, or even if we have hair or not, but I've given time to brunettes in past posts so am focusing today on paying homage to the blondes of the world.

Cleopatra's Long Forgotten Blonde Period Original Painting from Art Meister (Cleopatra was in fact a blonde. That's because she was not Egyptian. She was a Mac was a Macedonian Greek, with hair as blonde as Alexander's.)
Yes I'm blonde. Yes I'd love to be a brunette – often in my dreams I have dark hair and olive skin - much more suited to playing in the outdoors than being fair. But dark hair just doesn't look any good on me. It never has. I started off as a 'white blonde' child, progressing in my teens to dark blonde (or mousey brown depending on who's describing it)…and have been various shades of blonde ever since. Yes I lighten my hair. And it's currently the lightest it's ever been…practically white blonde.

Vintage Nun and Choir Boys Music Box from The Bakers Daughter Too
I have a confession to make. I haven't been to the hairdressers in 10 years. I like to do it myself. That includes cutting and colouring. My hair is very straight and I found myself having to repair the cut a day after visiting the hairdresser so I started cutting it myself and have become quite good at it I think. Currently I have a concave bob with fringe.

Chickadee Oh Chickadee I Dreamt You Wove My Hair For Me, original charcoal drawing from The Extent of Silence

I found that paying a hairdresser to colour my hair was expensive and not convenient. You know what dyed hair is like…one day it's looking fabulous then seemingly overnight you see the colour growing out. When you do it yourself you don't have to go through days of walking around feeling unkempt. You can do it that day. It only takes half an hour and voila no regrowth.

Handpainted Pillow by Sandy Mastroni

I only mix half the contents of supermarket purchased colour and only 'do' the roots so it's very inexpensive. And with some good hairdressing scissors a little trim can happen at the same time and you always look as if you stepped out of the hairdressers. I also put in some blonde toner once a week so that I get that nice ashy look. Weird as it may sound though I enjoy watching hairdressers and beauticians work...it's soooo relaxing.

Cut your hair straight after shampooing when it's wet. I comb then clip the top section up, cut the underneath, then take the clips out and do the top layer. Do err on the side of caution although the beauty of doing it yourself is you can take more off if you need to. And if you happen to make a mistake, don't worry, it's only hair and it will grow back.
The best color in the whole world, is the one that looks good, on you! Coco Chanel