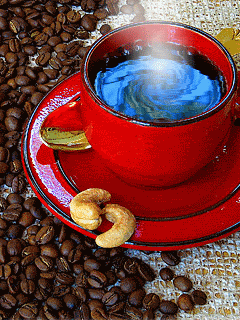 Ah coffee. Go on, scratch and sniff that screen! Inhale that aroma! You know you want to. Now have a read of this exquisite poem, and a look at a couple of clever coffee art ideas. Then maybe you can help me 'read' my coffee cup...
Hans the Wooden Man by Sandra Eterovic using coffee as paint
Betsy Donkey, distressed with coffee (n tea) to give a vintage look by Little Black Crow Studio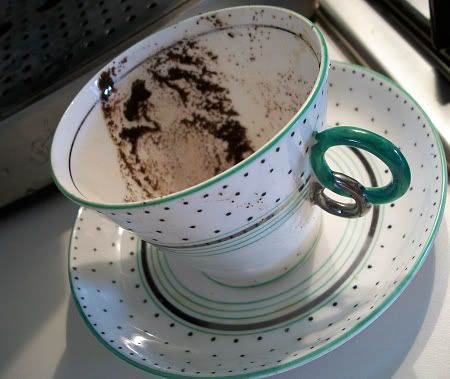 My cup after drinking Turkish coffee today. What do you see for me?
How to Read a Coffee Cup (adapted from info by Sahar)
>You will of course need to prepare your coffee in such a way that there are grounds to read. Use grounded, powdery soft Turkish or Greek Coffee or the residue from a cappuccino or espresso will work just as well.
>Enjoy your coffee while relaxing, and ask yourself: What do I need to know about my present situation? or What will be the important changes in my life in the near future?
>Now, take out a piece of paper and pen, and in a stream-of-consciousness style, begin jotting down your thoughts as you casually meditate on the shapes you see there. Above all, don't edit yourself. Write what pops into your mind. If the first thing has nothing to do with the coffee, jot it down anyway. Continue to stare at your cup as if you were lying face up on your lawn (if you are fortunate enough to have one) staring at the clouds above.
>Continue writing for at least ten minutes. You don't need to read every cluster of grounds or patterns in your cup. Interpret only what speaks to you. There is no right or wrong here. Each of your interpretations is 'correct'. You really do have all the answers within you. Trust yourself.
[I wish I could always remember those last two sentences!]