Welcome to the Sleepy Hollow Halloween Party. It's scarey here, but there could be treats. What's that? Shhhhhh… I hear a voice, a deep and tad menacing voice, drifting on the wind...
What fearful shapes and shadows beset his path, amidst the dim and ghastly glare of a snowy night! With what wistful look did he eye every trembling ray of light streaming across the waste fields from some distant window! How often was he appalled by some shrub covered with snow, which, like a sheeted spectre, beset his very path!
How often did he shrink with curdling awe at the sound of his own steps on the frosty crust beneath his feet; and dread to look over his shoulder, lest he should behold some uncouth being tramping close behind him! and how often was he thrown into complete dismay by some rushing blast, howling among the trees, in the idea that it was the Galloping Hessian on one of his nightly scourings! (from the Legend of Sleepy Hollow, by Washington Irving)
And as the headless rider rode off into the distance, he was heard to cry............

I think he's dropped some treats from his saddle bag. Look there below, it's magnets of cream and gold, and tags for writing your own cautionary notes. Mich from
Mich Vanetta
and
Koot
has provided this tempting giveaway.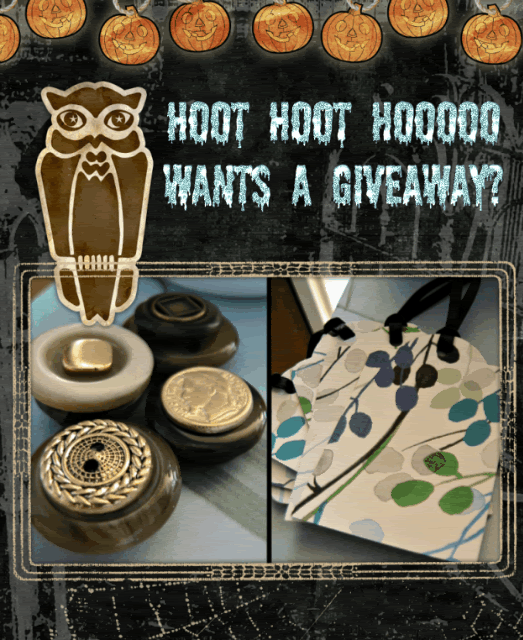 To get your hands on these treats, see below. Don't forget to leave a separate comment for each entry.
1 Entry – Leave a comment on this post
1 Entry - Follow this blog
1 Entry - Follow
Mich's blog
1 Entry – Visit one of Mich's Stores, either
Mich Vanetta
or
Koot
and leave a comment with a link to your favourite item
3 Entries - Blog, tweet, facebook this giveaway and leave a link. Getting the word out gets you 3 entires! Go ahead and leave three comments. You can do this as many times as you want.
This giveaway is open worldwide and the winner will be chosen by random number generator on October 24th at 11pm etsy time.
Enjoyin the Halloween vibe? Want more? You're in luck as many bloggers are having Halloween Parties today thanks to our gorgeous host, Vanessa of
A Fanciful Twist
. Go visit Vanessa for links to the other party hosts. Happy Halloween!
WINNER! Congrats to Kathie from My Net Finds!