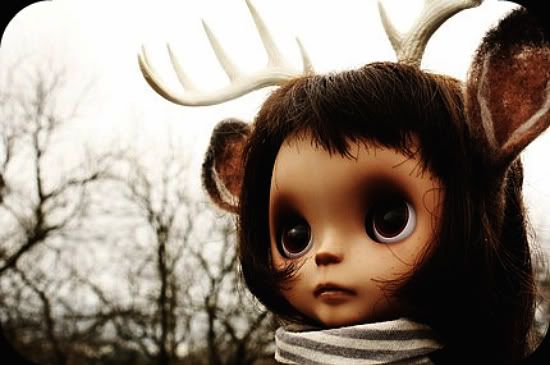 custom made blythe deer doll from sammy doe
I wish we were all sitting in a room together with one of us reading this poem to the others. And then we'd talk about it sharing insights and experiences. Maybe we'd laugh. Maybe we'd cry. Or both. No matter what, it would be so nice to share with you. Each of Joy Harjo's poems is a beautiful work of art. The use of storytelling sucks me in; I need to keep reading to find out what happens next. The language. The images. They trigger unexpected thoughts, take me on little internal journeys. Harjo ignores the constraints of grammatical correctness, and she makes it work, crafting each poem into an individual gem. I hope you like this one titled 'Deer Dancer'. For the complete unedited text visit here.

Nearly everyone had left that bar in the middle of winter except the
hardcore. It was the coldest night of the year, every place shut down, but
not us. Of course we noticed when she came in. We were Indian ruins. She
was the end of beauty. No one knew her, the stranger whose tribe we
recognized, her family related to deer, if that's who she was, a people
accustomed to hearing songs in pine trees, and making them hearts.

The woman inside the woman who was to dance naked in the bar of misfits
blew deer magic. Henry jack, who could not survive a sober day, thought she
was Buffalo Calf Woman come back, passed out, his head by the toilet. All
night he dreamed a dream he could not say. The next day he borrowed
money, went home, and sent back the money I lent. Now that's a miracle.
Some people see vision in a burned tortilla, some in the face of a woman.
dress from louise black
This is the bar of broken survivors, the club of the shotgun, knife wound, of
poison by culture. We who were taught not to stare drank our beer. The
players gossiped down their cues. Someone put a quarter in the jukebox to
relive despair. Richard's wife dove to kill her. We had to keep her
still, while Richard secretly bought the beauty a drink.

How do I say it? In this language there are no words for how the real world
collapses. I could say it in my own and the sacred mounds would come into
focus, but I couldn't take it in this dingy envelope. So I look at the stars in
this strange city, frozen to the back of the sky, the only promises that ever
make sense.……..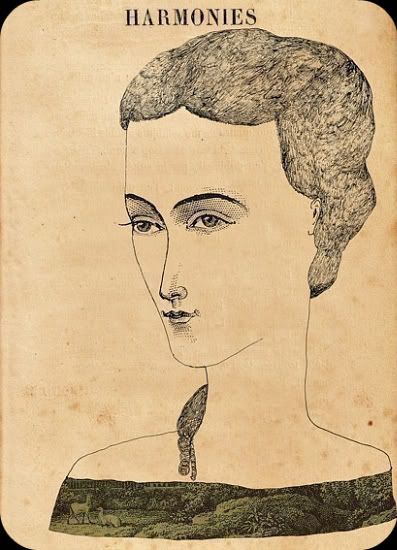 print by iris schwarz
You would know she could hear only what she wanted to; don't we all? Left
the drink of betrayal Richard bought her, at the bar. What was she on? We all
wanted some. Put a quarter in the juke. We all take risks stepping into thin
air. Our ceremonies didn't predict this. or we expected more.

I had to tell you this, for the baby inside the girl sealed up with a lick of
hope and swimming into the praise of nations. This is not a rooming house, but
a dream of winter falls and the deer who portrayed the relatives of
strangers. The way back is deer breath on icy windows.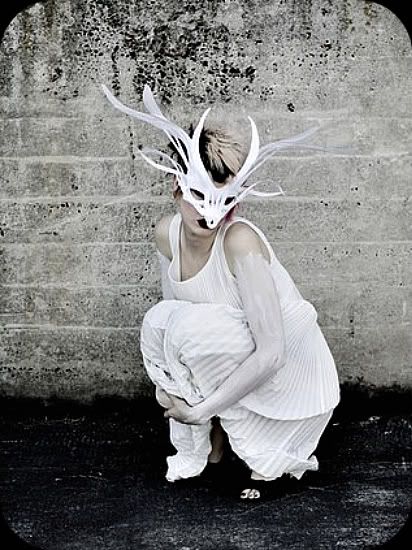 photograph via visioluxus
The next dance none of us predicted. She borrowed a chair for the stairway
to heaven and stood on a table of names. And danced in the room of children
without shoes.You picked a fine time to leave me, Lucille With four hungry children and a crop in the field.

And then she took off her clothes. She shook loose memory, waltzed with the
empty lover we'd all become.
top from ruby pearl
She was the myth slipped down through dreamtime. The promise of feast we
all knew was coming. The deer who crossed through knots of a curse to find
us. She was no slouch, and neither were we, watching.

The music ended. And so does the story. I wasn't there. But I imagined her
like this, not a stained red dress with tape on her heels but the deer who
entered our dream in white dawn, breathed mist into pine trees, her fawn a
blessing of meat, the ancestors who never left.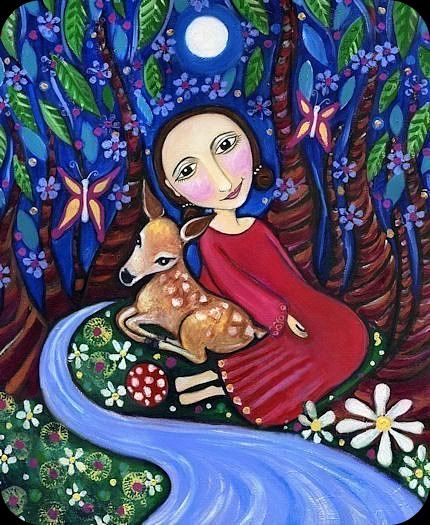 print via serpent mandalas
While we sat together talking poetry and art and life, we'd sip on champagne. The very best of course. Or tea if that's what you wished for. Use this doiley as a coaster. Go on! I've reworked a vintage doiley for this weeks Three Muses Challenge - 'A Nice Cup of Tea..' (Sometimes I go out for a 'cuppa' or a coffee with a certain friend, and inevitably these beverages get dismissed by her and glasses of bubbly stuff is soon sitting in front of us. Well what can I do. I can't offend her can I. I just have to drink it. I think she'll like this reworked doiley as a gift. She won't mind if it's been lightly used.)

And as we talked, and sipped, we'd want to be as comfortable as possible. So I've revamped some footstools for us. Last week I purchased these footstools from a local thrift/op shop. They cost me AUS$4 for the two. Just perfect for some glamorous lounging about. With left over red paint and some purchased fabric (one metre for $14.95) it wasn't a difficult task. I had a bit of help with the stapling. Now…Comfy dears? Stay as long as you like. It's lovely to have you here.

We'd raise our glasses too to the Etsy artists whose work appears in this post. And we'd visit their stores and buy whatever we wanted. That's what we'd do.