recycled lampshades at Flossy and Mr You's wedding feast

Well that heading got your attention didn't it. No it's not mine. I'm not usually a weddingy person and don't have any intention of starring in one but just reading about Flossy P and Mr You's wedding has been so lovely that I got inspired to do a little wedding post. I highly recommend heading over to Flossy's place, taking a pew, and enjoying the wedding. You'll go away feeling uplifted - and with fabulous decorating ideas as well.

all under $50, from top left clockwise: 1. maternity bridal gown from lady elizabeth designs 2. vintage pink with shawl collar from dollyrocker vintage 3. vintage green formal dress from yellow dog vintage 4. girls attendant dress from the bitsy bean 5. short white dress from aptvwt 6. short maroon velvet dress from sunny sunday vintage 7. caramel velvet from popettes 8. cream long sleeved vintage dress from nod to mod vintage 9. floral halter from the grace boutique 10. mens jacket from vintage suits 11. square neck black dress from vintage suits 12. black halter from nicole kimberley
So, for my wedding post I gave myself the challenge of staying at $50 or under for clothing or accessories. There were so many fabulous inexpensive 'gowns' and men's outfits to be had on Etsy. Or you could just skip the new outfit and wear any old thing coupled with one of these accessories and nobody would notice the outfit.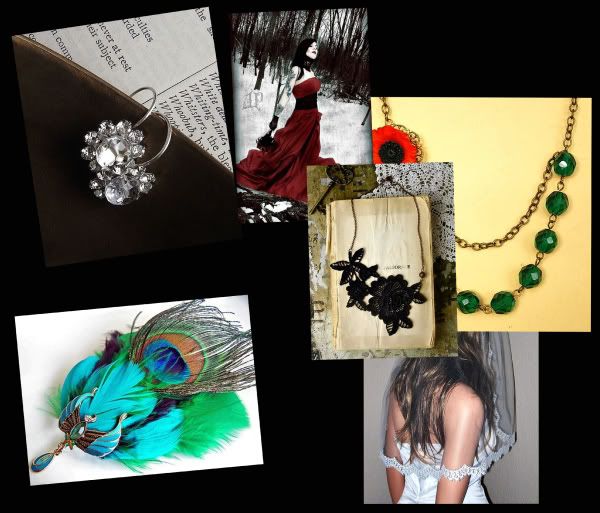 all under $50, from top left clockwise: 1. earrings from realisation creations 2. lace belt from chez kevito 3. black lace necklace from white owl 4. poppy necklace from luxe deluxe 5. veil from mariso lapiricio 6. peacock hair clip from nyjole jewellery