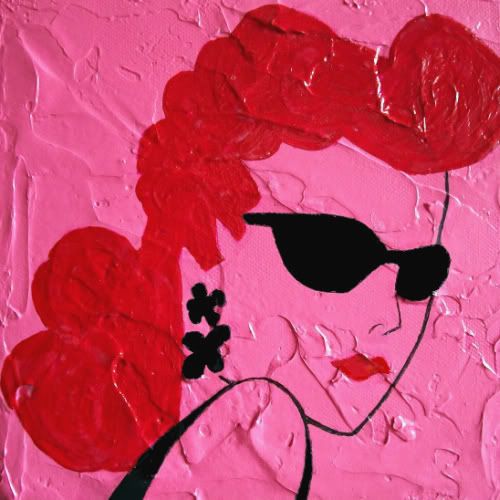 The Three Muses Challenge this week is 'Incognito' and this flame haired lady is my effort. I'm really pleased with her! To get the textured base I used a mix of impasto and pink acrylic. It was just like mixing icing, and then it was just like icing a cake applying it to the 8" x 8" x 1.5" canvas. A neglected Redhead Matches box with its iconic figure was used as a guide. The sunglasses ensure her 'incognito' status.

I hope you're not weary of Alice in Wonderland themes. It's just that these pics just fitted right in here with their undercover personalities....and they're so lovely.
Row 1: Fabulous Magazine / Alidra Alic / model Sarah, photographer Rebekah Lyn Row 2: The Seamstress of Avalon / Frankenkitty / Andreas Stavrinides Row 3: Fabulous Magazine / Andreas Stavrinides / Andreas Stavrinides
Over the last couple of weeks I've been plodding along with this embroidery, on a linen table runner, of the words from the latest Tim Burton Alice movie You're mad, bonkers, off your head -- but I'll tell you a secret: All the best people are. I quite identify with this quote as I'm sure many of you do. I made the mistake of sewing the letters in chain stitch. It took forever! Might try split stitch for the next one.
And I stumbled on this treasure somewhere in the bloggosphere – the very first Alice in Wonderland film - made in 1903. With a running time of just 12 minutes, 8 of which survive, this was the longest film produced in England at that time. Film archivists have been able to restore the film's original colours for the first time in over 100 years.
And finally darlings, to get the nice puffy haired look of the Matchbox Redhead try Bumpits. I got some of these from ebay, delivered, for less than $10. There's been much laughter as I play with my new toys. Yes, they do work, but unfortunately with my fine fluffy hair they don't look so good for anybody who stands behind me. But hey I figure it gives the viewer material for dinner table conversation. (Check out this ad, it's hilarious.)

personal postscript: I had an 'angry' day on Tuesday. Anger about Renee and what she had to endure – and now what her family is going through. Anger about the peripheral neuropathy pain which has affected every facet of my life. Anger with the doctors for not ever warning me about the possible side effects of the chemo type iv drugs I was given for my lung condition. It was a horrible feeling this anger. I'm pleased its fire only lasted a day. Anger can be noxious, but it can spur us onto action. So now I'm contemplating what I can do to channel this anger productively….