What We Cannot Speak About by Moonwild on Flickr
My memory is a crystal clear prism. I've always felt fortunate that it is, that I can close my eyes and recall scenes from the past, including the environment - what people were wearing, what colour the furnishings were etc – and most importantly, the words that were said. There are some things in my past that I'd like to forget but I've found that I can't free myself from them, only work from them and with them. If I deny them they just lay in wait and corner me when I least expect it! But maybe I'm fooling myself. It has been said that we are sum of our memories, that all that we have ever experienced goes into that end product. But…. it makes sense to consider the reverse of this statement. People's memories are not only the sum of all that they have done, but there is more to them: The memories are also the sum of what they have thought, what they have been told, what they believe, or have been led to believe, so that we're all always 'angling the prism of memory'.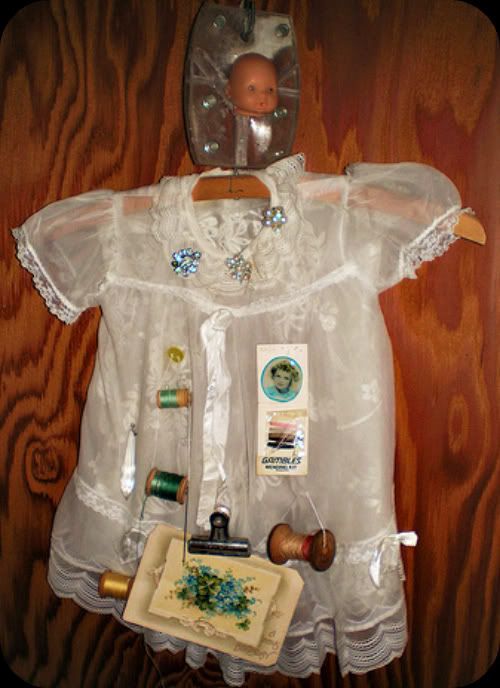 Altered Baby Dress from Altered Alchemist on Flickr
Tea Bag, Found Objects and Wax Dress by Jennifer Collier
for my Granma

Original art above available from Etsy left to right Morgana's Fairy Closet by Camp Cactus, July Breeze, Sculpture by Deborah Harrington from Cow Bird, The Dress 2 Original Mixed Media by Monica J, White on White Original Artists Trading Card from Boubelina 2,
Recital Dress Haiku by Unbecoming Lily an Australian artist and poet, My Victorian Dress Closet from Pug Pink


Something a little different but so exquisite I had to share. Dress For Monozygotic Twin or The Cat Dress by Australian textile artist Robyne Melia on Flickr. Robyne has used the old fashioned punched card method (remember the old card boxes?) in an avant garde fashion. Please have a look at Robyne's crazy quilting while you're browsing her work on Flickr. It's truly inspirational. Robyne also sells some of her embroidery patterns on Etsy. For some little victorian dresses to work with yourself visit No Flying In The House. I've purchased and received one and now waiting for some time and energy to alter it.
Inspired by the art and writings of Sandra McQueen and by the writings of psychologist Elizabeth Loftus.