Mermaid Towels from
Tiny Green Apples
.
Reason is a supple nymph
The Mermaid Travel Quilt from
Raggedy Owl
.
and slippery as a fish by nature.
Centre stage is the flattering High Waist Fishtail Skirt custom made for you from
Maisy Brown Repro Retro
. On the left is Vanessa Hudgens and on the right Melissa George via
Daily Mail
.

She had as leave give her kiss to an absurdity any day as to syllogistic truth.
Fish Tail Braids are apparently big on the catwalks this year. Some instructions here at
Cosmo
. Lots of other how-tos on youtube.
The absurdity may turn out truer. (DH Lawrence)
Luscious Inexpensive Prints from
Matou en Peluche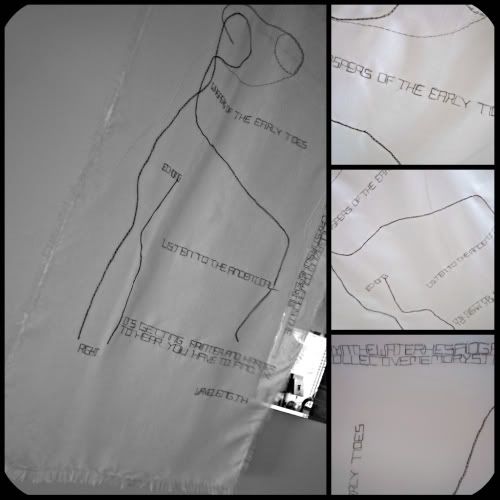 My entry in this week's 'whispers' challenge from the Melange Team, Whispers of The Early Tides, embroidery on organza wall hanging. Please visit their link for other entries.

Stop motion animation by Rima Staines for the Orla Wren track 'The Fish and the Doll' from album 'The One Two Bird And The Half Horse' released in 2009 on the FLAU label. Vocals by Russudan Meipariani. Album available through Orla Wren and FLAU. Video first sited on Rima's blog, a wonderland worth visiting.

Bathrooms and Outdoor Shower from Coastal Living.
I'm in need….have been really ill this week with pneumonia so please send your loving healing vibes my way and forgive me if I'm slack with my blog visiting. Thank you dear blog readers.