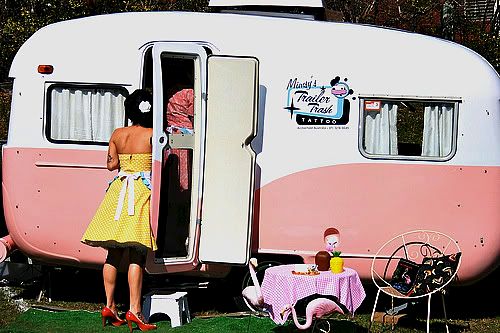 Brisbane's Own Mimsy's Trailer Trash Tattoo Caravan

Sure, we have vintage caravans here in Australia. Tattooist Mimsy Gleeson's
1959 Qualicraft above is a little cutie. There's even a Club for vintage caravan owners here. But when it comes to the iconic Airstream, there aren't many about.

These caravans (or trailers) are travelling works of art. Originating in the 1930s in Ohio, USA, Airstream trailers are easily recognized for their distinctive rounded alumunium bodies. One of my blog friends in the US is an Airstream devotee. An Interior Designer and Artist, Judith Thibaut manages to add class to any interior she tackles - including her Airstream. See more Airstream photos at Judith's flickr site.

If you just want a taste of the Airstream lifestyle, you could holiday at an Airstream Hotel. And not just in the US. If you happen to be heading to South Africa, this fleet of Airstream trailers is positioned on the rooftop of the Grand Daddy Hotel, overlooking Cape Town's Table Mountain and the city below. You can choose from themes such as Love of Lace, Dorothy, and Afro Funk.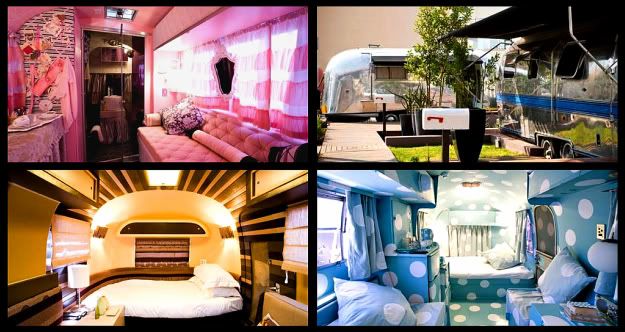 Or, just get a little taste of the pink flamingo lifestyle with these.
1. The Mod Shop 2. Birdie 1 3. Crafty Guys 4. BA Kid Again 5. Blitz Knitz 6. Lush Punk



And no, not a flamingo, but a little winged poppet for Melange's

'Flight'

Challenge and for the Three Muses Challenge. A miniature quilt titled 'She could not see what all the fuss was about' - photo transfer, embroidery, detachable felt bear.