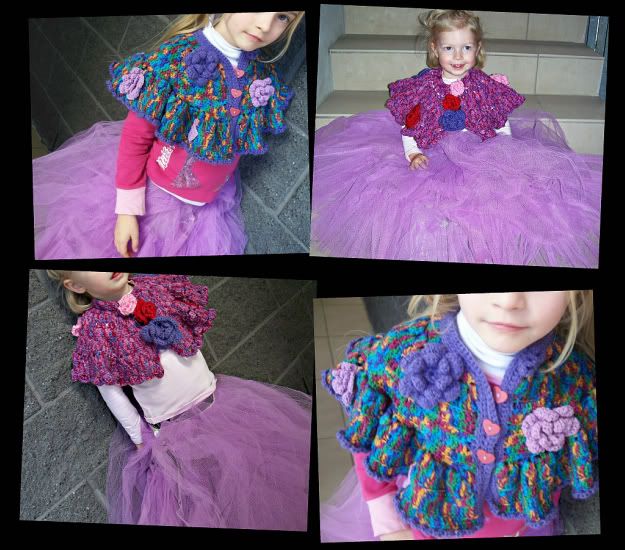 I've been working on a new project. Hiding away click click clicking with the crochet hook. Writing down what I've done. Typing it out. Printing it up. Click click clicking again to refine. And on and on it went. Prototypes of girls' capelets were produced and refined and the patterns recorded. Until at last those patterns are finished and just right! Two PDF crochet patterns for girls capelets. Whimsical Wishes for 2 to 6 year olds is modelled in the top photos by a couple of little treasures. Flights of Fancy for 8 to 12 year olds is below it. I haven't nabbed a live model for this one yet tho must confess I've been wearing it myself.

You know I don't usually feature my own art work on here but I have to say that those PDF patterns are for sale in my Etsy store!

To celebrate I'm giving away three copies of each pattern. Leave a comment if you want one. Leave a comment even if you don't! I'll do a random no generation on Saturday 8th.

This video shows how I feel (substitute crochet hook for knitting needles) after crocheting a pile of these capelets.


....and the winners are....nos 1, 2, 3 etc...yes everybody who left a comment up to today has won one of the patterns! I'll email you over the next day or so to finalise.