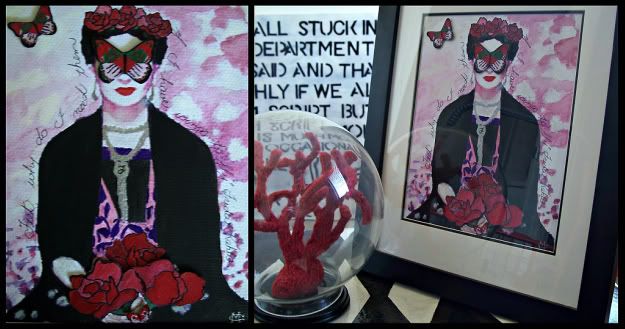 Once again the Melange Team had me fossicking among older art works of mine for
this week's challenge
- an artwork incorporating a quote. Featuring Frida Kahlo and a quote from her -
Feet, why do I need them if I have wings to fly
, this is a real 'mixed media' piece using inks, watercolors, acrylics, and paper tole.
And this poem I had to share. I think Frida would have liked it too.
Love after Love
by Derek Walcott discovered via Maureen's blog,
Sanctuaries, Dreams and Shadows
.
The time will come
when, with elation
you will greet yourself arriving
at your own door, in your own mirror,
and each will smile at the other's welcome,

and say, sit here. Eat.
You will love again the stranger who was your self.
Give wine. Give bread. Give back your heart
to itself, to the stranger who has loved you

all your life, whom you ignored
for another, who knows you by heart.
Take down the love letters from the bookshelf,

the photographs, the desperate notes,
peel your own image from the mirror.
Sit. Feast on your life.
featuring photographs from Krista Gabbard, Meytav, Itzemill, Feast of Fun, Woordenaar, Angry Lambie1, White Sleeve, Margarita Spain, J Macias, Miss Estrada, Mad House, Slyderma.