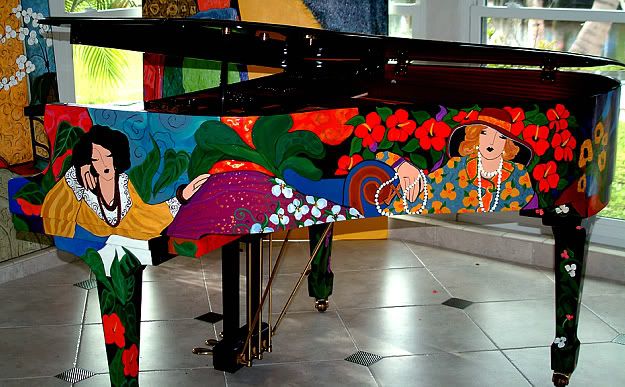 Handpainted Piano by Laura Mostaghel
Life is a song that's for sure. Sometimes a sweet one. Sometimes discordant. Sometimes we can play by ear. Sometimes we need to follow slowly and carefully note after note. And sometimes we just need to close the instrument up, stow away the sheet music, and be quiet for a while.
Yes I'm been quiet - and quite unproductive - this week. But I did manage to put this little web flip book together. Using my photos and verse, I'm made 'Holding On' for the
Three Muses
challenge this week - Lending A Hand. I think this can also fit this week's
Melange
'Abundance' challenge.
Many mixed media artists use sheet music in their work. One of the most inspiring art works that I've seen lately is this seed bead embroidered piece from mixed media artist
Peggy Dembice
.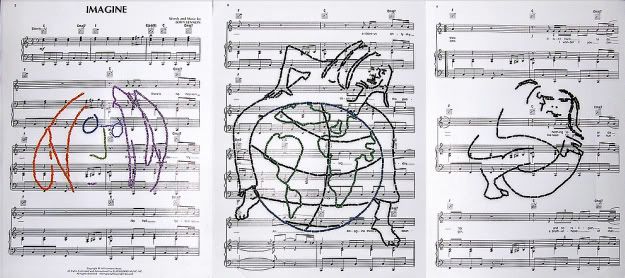 It's not difficult to get inspiration for a little decorating with sheet music art. Or, for just a few dollars (yes it's true!), you can purchase these.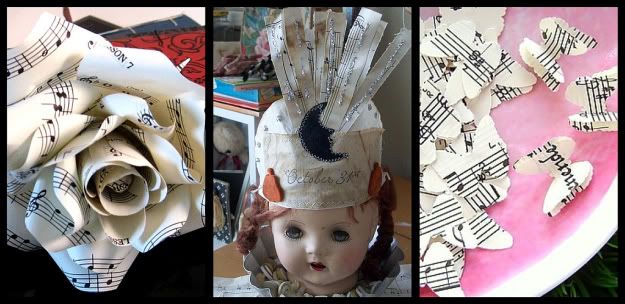 Custom Made Paper Rose from Ragnaz Idnar, a Halloween Crown from Vintage Market Place, 25 butterflies from With A Twist.
You don't haved to do anything with sheet music that has great graphics and colors. Just frame it up. This one is from
Galleria Designs
.
Any post that mentions the piano would have to include my favorite D H Lawrence poem, 'Piano'. This poem always transports me back to my grandmother's lounge room where I sit and listen to her play.



Softly, in the dusk, a woman is singing to me;
Taking me back down the vista of years, till I see
A child sitting under the piano, in the boom of the tingling strings
And pressing the small, poised feet of a mother who smiles as she sings.


In spite of myself, the insidious mastery of song
Betrays me back, till the heart of me weeps to belong


To the old Sunday evenings at home, with winter outside
And hymns in the cosy parlour, the tinkling piano our guide.
So now it is vain for the singer to burst into clamourWith the great black piano appassionato. The glamourOf childish days is upon me, my manhood is castDown in the flood of remembrance, I weep like a child for the past.
ps A couple of sweet songs arrived in the post for me this week. These exquisite tags arrived from Marcie from
The Rustic Victorian
. Such attention to detail and oh those vintage ribbons! I can see these being quite at home draped over an old bird cage I have. Janice from
Papier Valise
has sent a little surprise package of goodies for playing with. Lucky me!
And just as special to me are your comments and emails. They are a precious song. I hope your week has been filled with some sweet music moments.